Domestic/International/Commercial Arbitrations
International Arbitrations
Shipping and international trade disputes.
Business
Commercial business-to-business and customer/business disputes.
Real Estate
Tenancy, leases, purchases and title disputes.
Securities
Customer/brokerage disputes (handled through FINRA, the Financial Industry Regulatory Authority).
Filing a foreign judgment in the U.S.
The challenges facing creditors wishing to enforce foreign judgments or arbitration awards.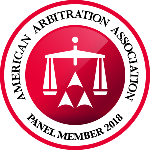 "Thank you for your patience and even-handedness ."
-Wedbush Securities v.p.
©2022 Copyright Commercial Arbitration Center